Disclaimer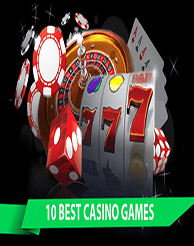 If you've got any questions or need more information about our disclaimer, feel free to shoot us an email at contact@the10bestcasinos.com.
All of this information is published solely for general information and in good faith. The 10 Best Casinos has no guarantees about the accuracy, reliability and completeness of this information. Anything you do upon reading the information on this website (the10bestcasinos.com), is absolutely at your own peril. We'll not be responsible for any damages and/or losses resulting from using our site.
From our site, you can access other websites by clicking links to external websites. While we endeavor to offer only quality hyperlinks to ethical and useful sites, we don't have control over the nature and content of these websites. Our links to other sites don't suggest an endorsement of all the content on these sites. Content and website owners can change without warning and this can happen before we get the chance to remove a hyperlink which might have been "broken".
Please also note than when you exit our site, other websites might have different terms and privacy policies which are out of our control. Make sure to go through the "Terms of Service" as well as Privacy Policies of these sites before uploading any information or doing any business.
Consent
By making use of our site, you hereby approve of our disclaimer and accept its terms.